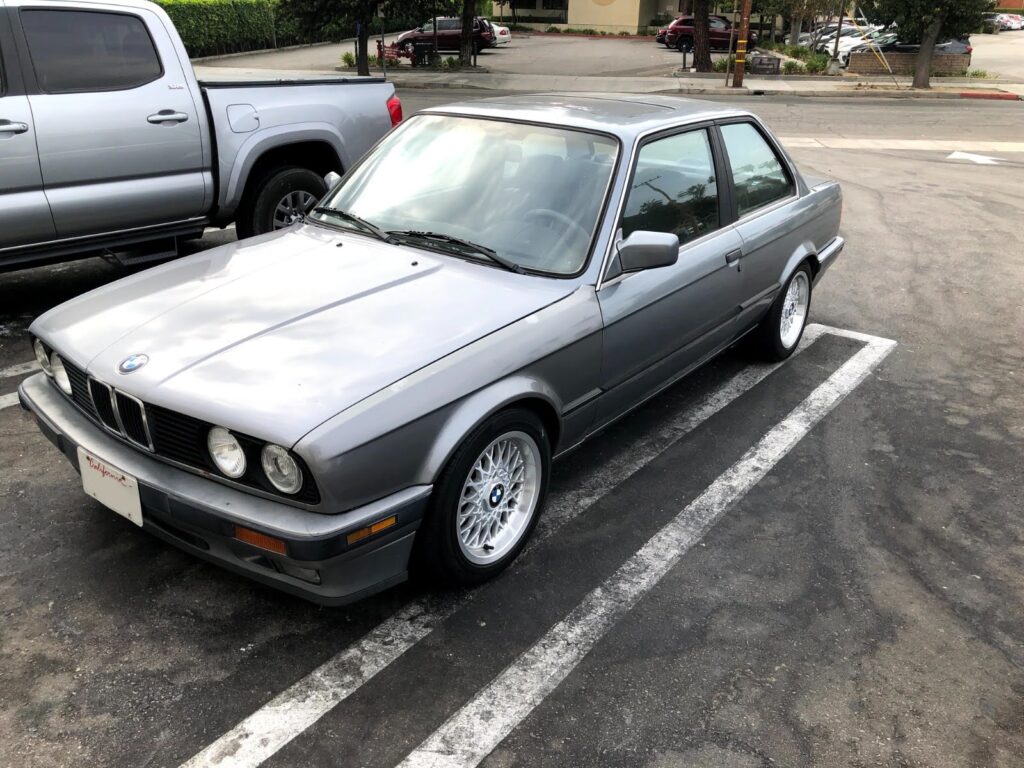 I have been thinking about purchasing a BMW E30 since I bought my first E36 M3 in 2014. There is something lovely about this little car and yes, it is quite little compared to modern cars. The styling is boxy and the corners of the car are barely smoothed over but there is just something about the styling that just speaks to me. Based on my love of 240 Volvos and E30s it could be that I am just into boxy cars, but I digress. The dimensions of the car are well proportioned and the angles of the front and back compliment each other. Although the rear C-pillars could of been less steep, as in the E30 M3 models, the design is something that simply speaks to me. The front is typical BMW for the time with the kidney grills and double headlights which modern BMWs seem to be missing. The back is a typical 80's 8-bit  tail light design that is well matched to the overall design of the car. Overall, I absolutely love the look of this car and I always have. The added allure of the E30 is its racing pedigree. The E30 M3 is one of the most winning chassis ever and dominated its class for years. Not to mention the insane depth of the aftermarket for this car only adds to the appeal. I also read how simple it was to work on these cars and how basic they were but still refined. The further I researched the car the more I had to have one. My mind was made up. As with every project, I had to do my homework first. There were tons of variants of the E30 and I had to do my homework before I made the jump and purchased one.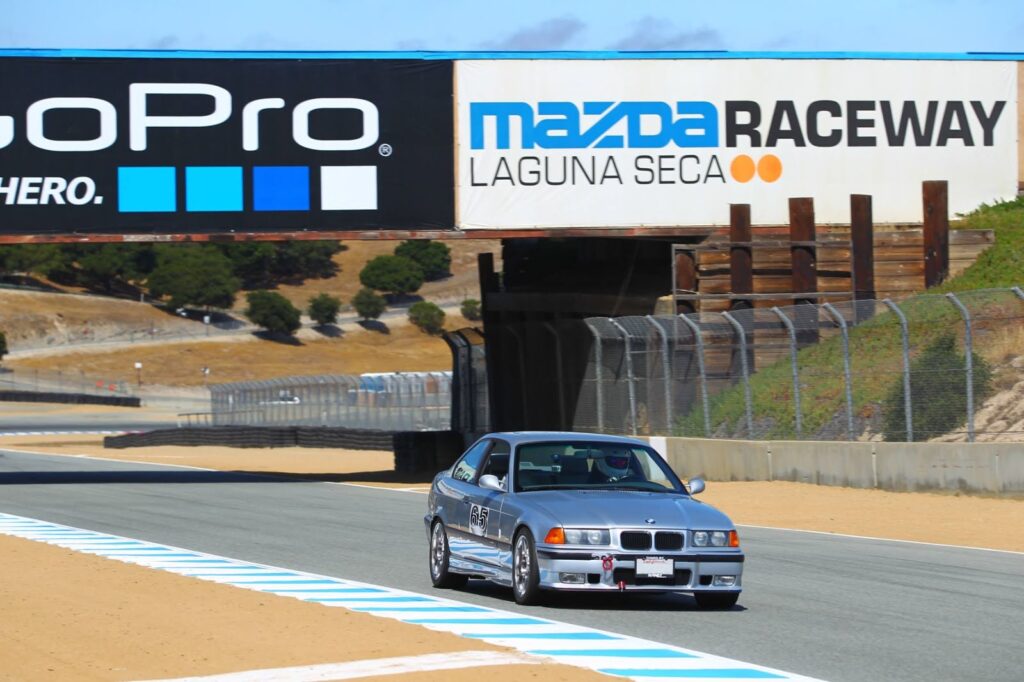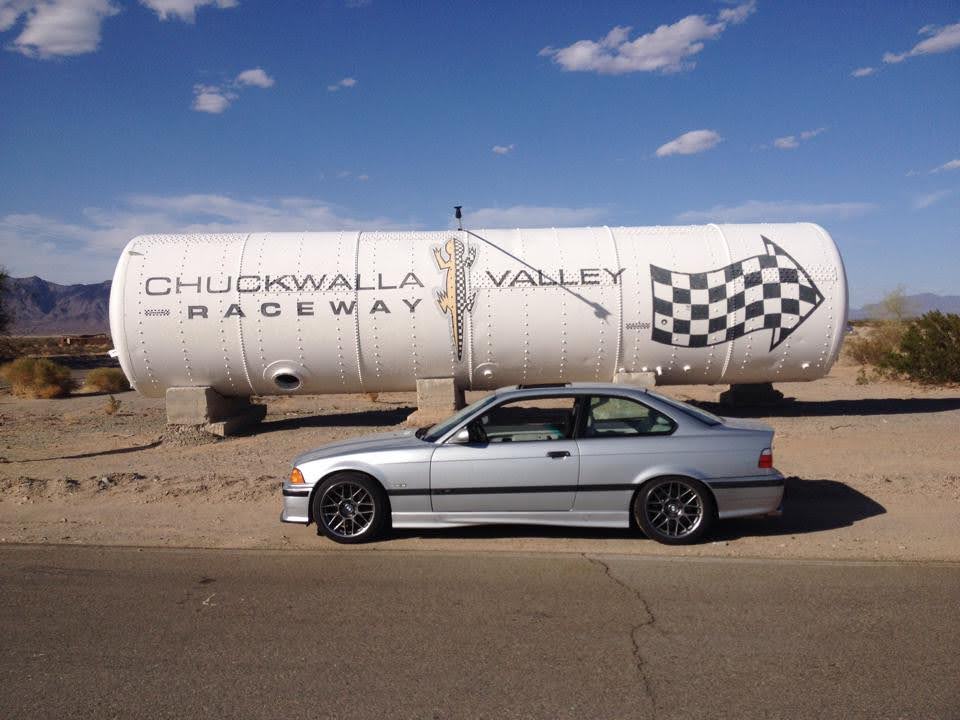 My interest in BMWs was unintentional. While I was working in the Oil Sands in Canada from 2012 to 2014 and there wasn't much to do, I decided I wanted to make a track day/daily driver car for fun. My friends and I had bought a Miata together and had gone through the trouble of upgrading the car for track days and I wanted a track day car of my own. In my spare time after work, I searched for what car to buy because there wasn't much else to do up there. I ended up settling on an E36 M3 based on countless glowing reviews about the car and soon found an excellent example in Sunland, CA, and spent several years driving all over California traveling to track days. It was during this time while working and driving the E36 M3, I began to appreciate the engineering and capabilities of BMW and the E36 M3. I enjoyed the car immensely but the OBD II smog equipment ultimately led to me parting with the car. I live in California and any modifications to the car would be scrutinized and would have to be removed if I wanted to pass smog. I was determined to purchase a project car without the pesky OBD II regulations. When I sold the car, which might have been a financial mistake, I had made up my mind that my next car would be a BMW E30.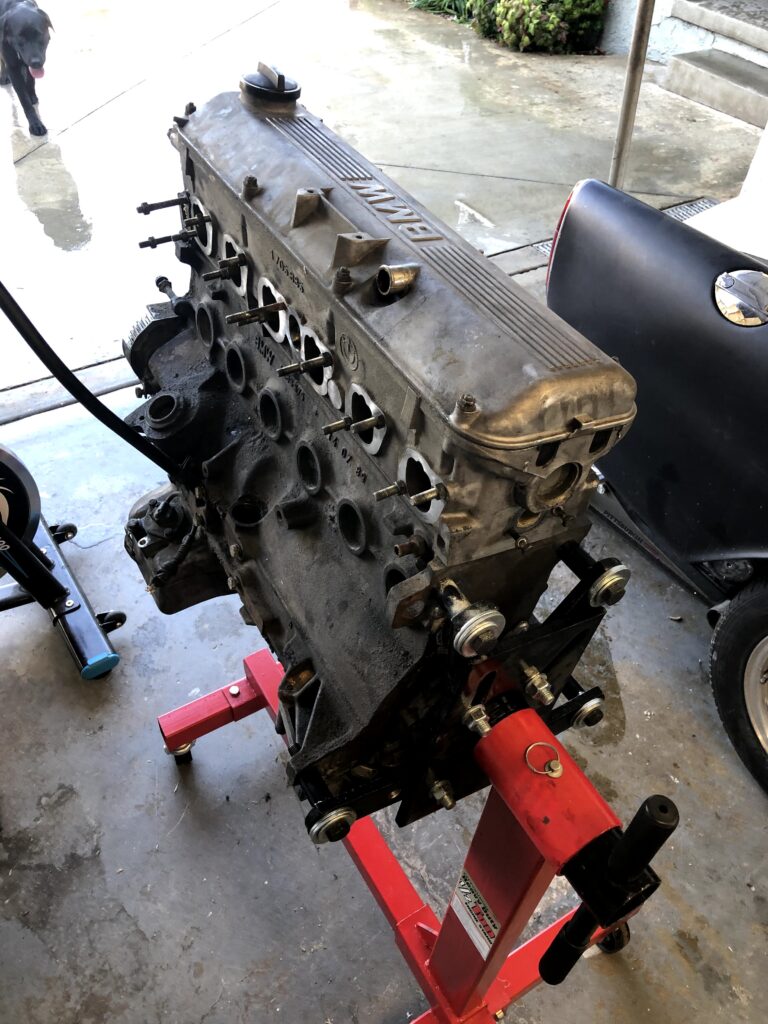 Well, things didn't exactly go to plan. I ended up buying my boss's Volvo 240 Wagon and fixing it up and enjoying it for a few years. My wife and I even took the car up to Yosemite where it didn't miss a beat. I loved the wagon but I always knew it wasn't a forever car since it did have a fair amount of rust. Maybe one day down the road I might pick up another one. They are just cool cars to own and drive. After parting ways with the Volvo, I decided I was going to make the jump to the E30. I decided I wanted to start slow with the project and learn as much as I could before I fully jumped into owning an E30. I did my research and learned about all the things you can do to an E30. People often motor swap these cars with S52 engines and chuck the old M20 engine. I didn't want to do that because I wanted to keep the car somewhat pure and stock. I decided I wanted to do a 2.8L stroker engine build instead of an engine swap. The first step on my E30 project was purchasing an E30 M20 engine in August 2020. The engine I picked up was a 1990 E30 325i in Riverside, CA from a smog shop that was doing an engine swap. I got the engine home and started pulling all of the parts off of the M20 engine. The engine was in good repair and didn't have any glaring issues. Although not perfect, the engine was well maintained and I could tell it was taken care of.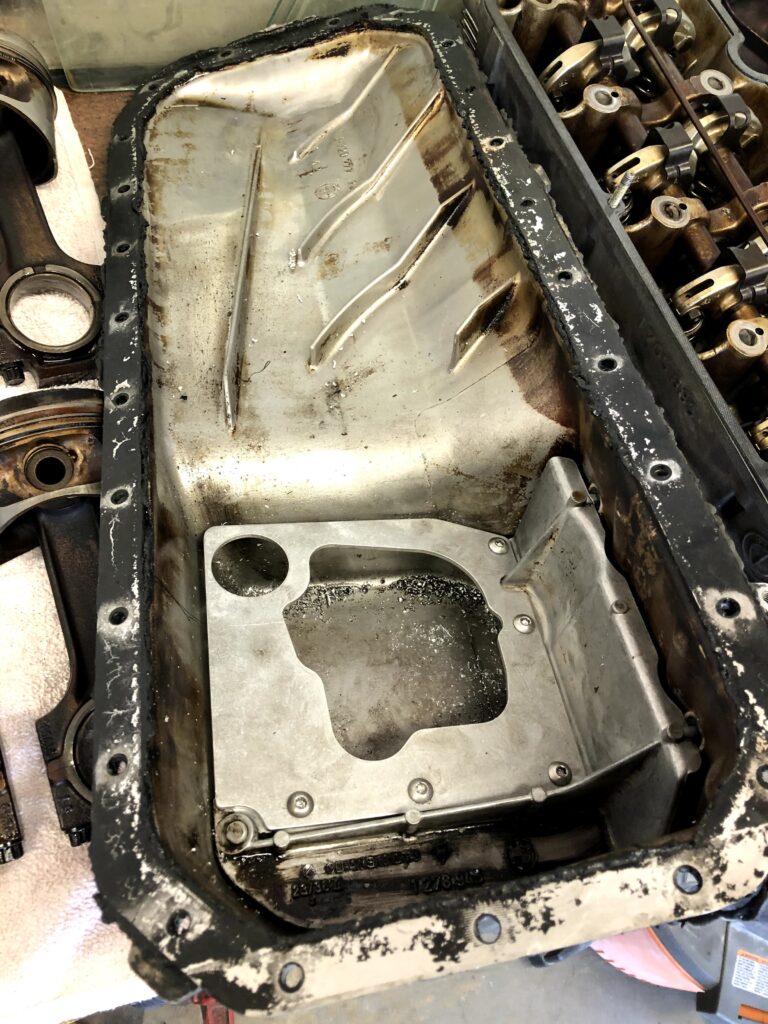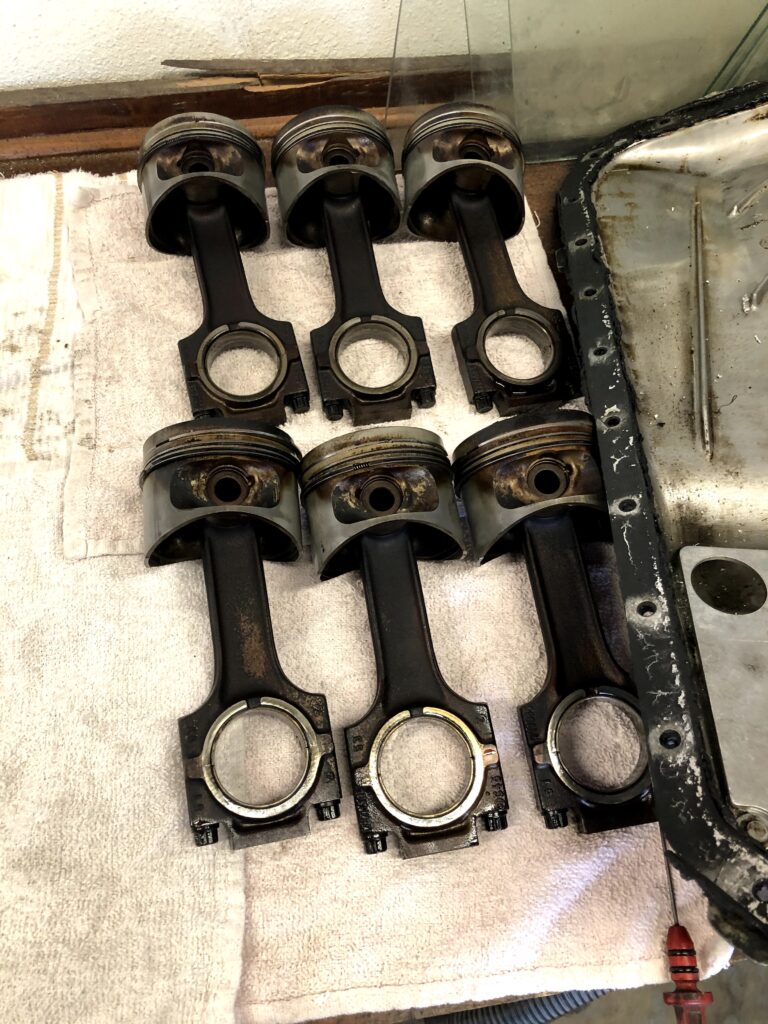 When pulling the engine apart I started to learn how these engines were put together and what makes them work. Each car manufacturer has a different approach when it comes to design and bracketry. I had never taken an engine apart fully and this was a great learning experience to sink my teeth into. I started with removing the accessories and saving every bolt and part and taking note of what was going to need to be replaced. After getting the oil pan removed, I researched if there were any upgrades that could be done to the pan. Ireland Engineering offers an oil pan baffle that attaches to the original oil pan with little modification. All that needs to be done is the drilling of a few holes and bolting the baffle right up. A simple mod to help with oil starvation in the future when the car is being trashed. 
Upon inspection of the head, it was in good repair. There wasn't any gunk or visible damage to the head. These cars are known for cracked heads but this head was in great shape as far as I could tell. The arches which hold the camshaft in place weren't broken either which is another failure point on these heads. After the head was on the workbench, out came the pistons and rods. The pistons were in great shape and didn't have a tone of carbon build-up. The rods were also in great shape. When inspecting the rod bearings, there wasn't any sign of visible damage. For the stoker, I won't be using the rods or pistons but this is a good sign this engine wasn't abused.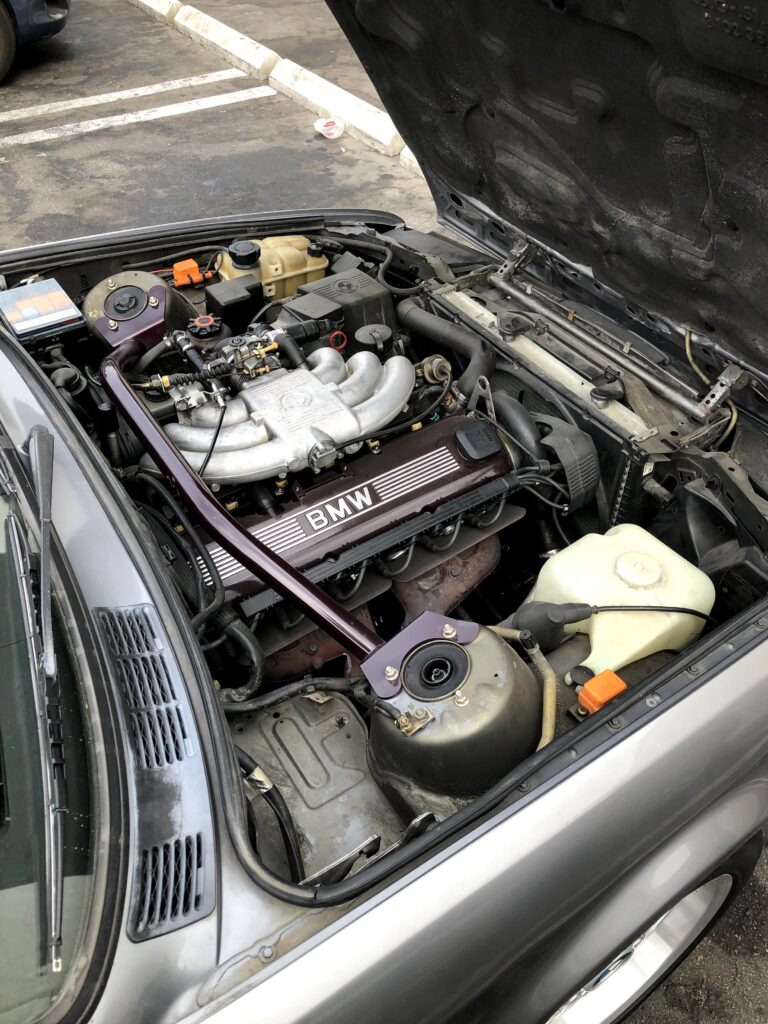 Unfortunately, buying the engine and taking it apart only wet my appetite for the E30. Cleaning parts and replacing engine brackets wasn't cutting it for me. Only a few months after the purchase of the engine, I soon found myself on Craigslist, OfferUp, and Facebook Marketplace trying to find a good example. However, most of the cars online were either too far gone, mostly disassembled, or expensive. After a few false starts and disappointing trips to see some cars, I finally got a good bite on a Silver automatic 1991 325i. It also didn't bother me that the car was an automatic because I was planning on doing a manual swap. I had to go this route because finding a manual in good repair was impossible to find and out of my price range. The car I had found had approximately 180,000 miles. I could tell the car was well taken care of but the owner was looking to part with the car because to be perfectly honest, taking care of an old car like this can be expensive and they were ready to part with the car. The car had a few imperfections like a visible oil leak but all and all the car was in good shape. I would give it a 6.5 out of 10. I considered it a good starting place for a project car. The car also had the late model facelift so I wouldn't have to deal with the early metal bumpers. All in all, a solid car. 
After discussing the price, we landed on a number. They held firm because they knew what they had. This was in October 2020 and since then, the market for these cars has exploded. These cars are now going for north of $10,000 for a decent example which kind of blows my mind. The pandemic has done strange things to the classic/used car market. I felt I had paid a slight premium for a decent example, but overall I felt it was a fair exchange. I had the car towed back to my house and my understanding wife begrudgingly accepted the new addition to our family with the understanding that this will be a forever car. I still have to keep reminding myself of that promise. I was tickled pink because I was now the owner of my dream car. I couldn't wait to get started tearing into this car. Motor on.