For better or for worse, it all started in Texas. I was on Christmas break spending the holiday at my sister's home with my family in 2013. I was relaxing on the couch and my dad approached me and point blank and asked me if I wanted to restore a car together. I was taken aback but immediately said yes. The obvious question was, which car do we choose? A few cars came to mind. An Alfa Romeo Duetto was suggested and we found a good example in Ohio for $5,000. However, as I learned throughout the project, my dad likes to quickly change his mind. He suggested a Sunbeam Alpine which I had never even heard of. He somehow heard of a kit where you could swap over the boat anchor of a 4 cylinder Sunbeam engine and replace it with the V6 from a Mustang II. Needless to say, I was intrigued and started researching. 
 After scouring Craigslist and online I soon found a 1967 Sunbeam Alpine located in the High Desert of California. The Sunbeam had already gone through a V6 conversion and seemed like it had been racing since it had a roll cage and race belts. The car seemed rust-free and was advertised for $5,000. An already converted V6 Sunbeam at a great price? I was sold and not at all skeptical. Enthusiasm can do much so much damage to rational thinking. I remember thinking this restoration is going to be a breeze. In a way, the already converted Sunbeam helped and hurt the restoration. But more on that topic later. In my dad's sly way, he suggested I go take a look at it knowing full well it would soon be ours.
I called up the seller and arranged to meet up in the high desert. I brought a few friends along just to confirm how crazy I was for buying the car. We drove up to the high desert, which isn't a quick 30 minute drive from where we were live. When I got their, the first impression was it was all there. The seller was selling it for the owner and didn't know too much about the project. The car had been sitting for some time but appeared to be in decent condition. The car didn't run to the sellers knowledge so we were taking an even greater risk. After a discussion with my my friends, they agreed it was worth the price but seemed to think I was crazy. After some haggling, I got the price down to $3,500 and was the proud owner of a 1967 Sunbeam Alpine. My friends and I got the car towed back to Los Angeles where I finally had time to dig into the money pit I had just purchased.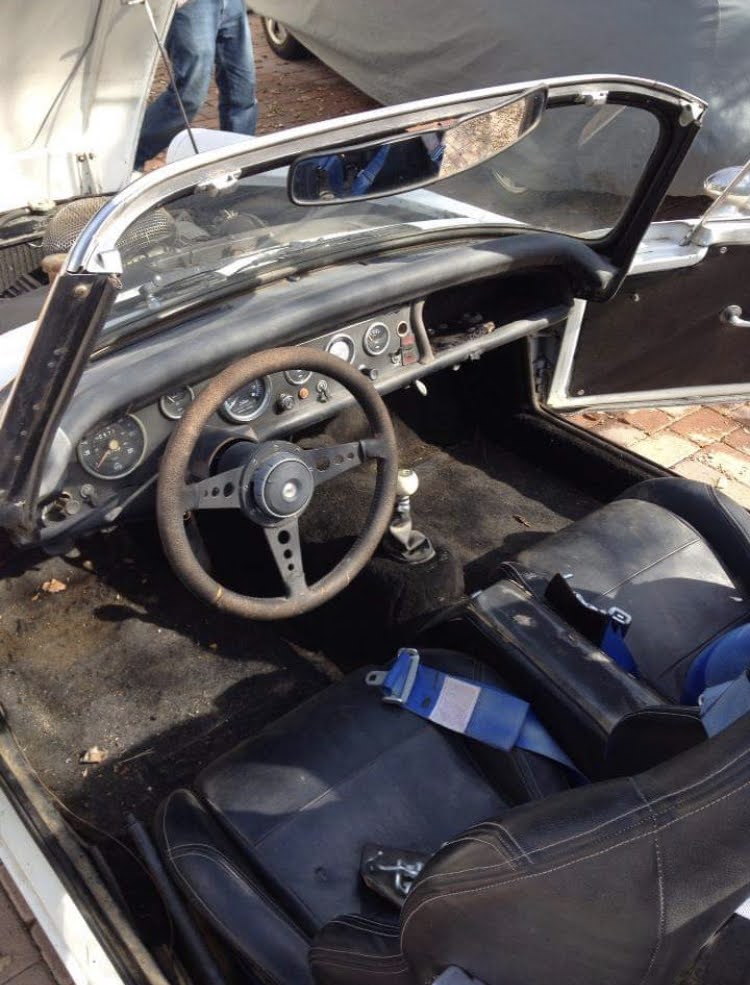 After some digging, I quickly realized the engine was a 2.6L from either a Ford Capri, Ford 20M RS, Ford 26M, and Ford Granada. The funny thing is all of those cars are from Europe. To this day we are still scratching our heads on where this engine came from. Somehow the previous owner got his hands on the European engine and shoehorned it in. The install wasn't bad since technically the car ran. I took the car for a lap around the block which didn't exactly end well. I ended up running out of fuel a half mile away from home and the clutch lost pressure, which seems to be a reoccurring theme with this car. The fact that the car ran and drove relatively well gave me hope that car had been taken care of and wasn't a complete dumpster fire.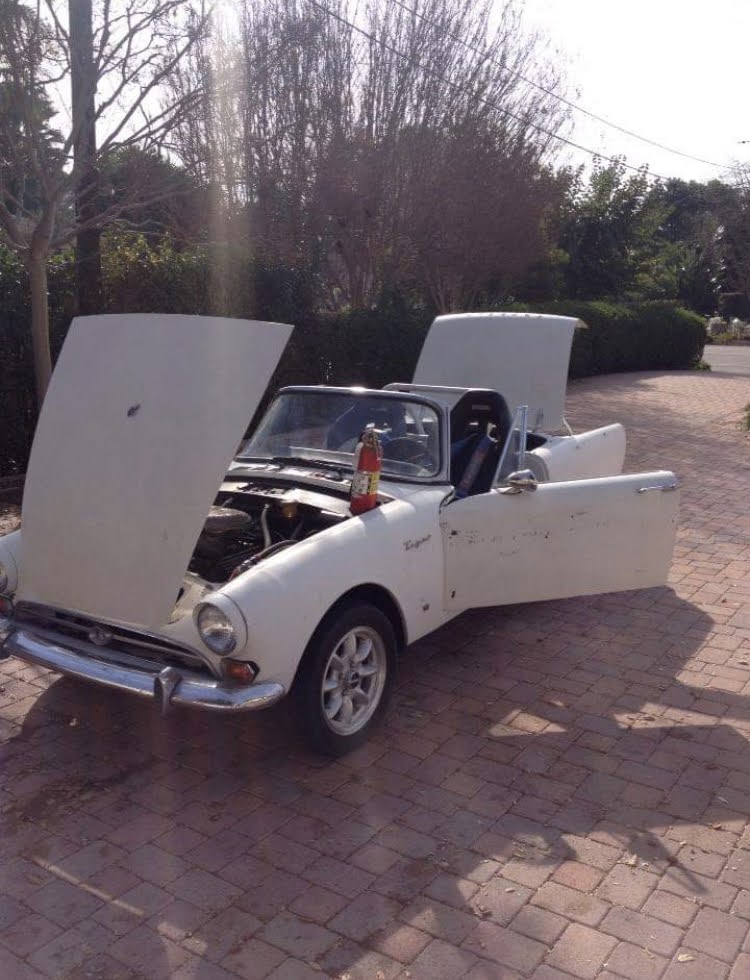 All in all, we were quite happy with what we paid for the car and what we got for the money. We got a rust-free relatively straight car with the right rear end (Dana 44) but also got a car with the wrong engine and transmission. We would have to source the right engine and transmission but overall a good start. 
We both knew we had an uphill battle but were glad we had taken our first step. I had done some digging and found an online forum, The Sunbeam Owners Club of America (SAOCA), which was a great resource for information. Soon we were in touch with a few mates who had done these restorations and swaps so we weren't completely on our own. 
The next step was our first and best mistake, completely disassembling the car. We knew the car had to be completely disassembled and the engine had to come out.  We should have documented the removal but this was my first rodeo, and as I was a complete novice and had no idea what I was doing. It obviously worked out but I could have avoided many mistakes later down the road, but thankfully these cars are not too complicated. I always say the best way to learn is by making mistakes. 
The next Blog post will dive into the disassembly and sourcing parts for the build. Stay tuned for updates on each step of the restoration. Motor on.